The Naturally Warm Mineral Water at Broadwing Farm Cabins
More than 200 years ago, settlers and explorers to the Blue Ridge Mountains discovered what the native people had known for ages: along the banks of the ancient French Broad River there is naturally warm mineral water flowing up from the depths of the earth. In the eastern US that is a very rare thing!  Because of the naturally warm mineral water, the town of Hot Springs, NC has grown and thrived since the late 1700's and has continuously been a destination for health and relaxation seekers. In 1999 we discovered, by accident, in a well we  drilled for drinking water, that the naturally warm waters of Hot Springs NC were flowing beneath Broadwing Farm. This naturally warm water is one of the main benefits for visitors to Broadwing Farm Cabins in Hot Springs, NC.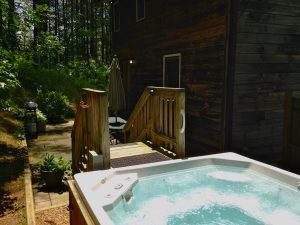 Each of our three rental cabins has a private hot tub filled for your stay with only fresh mineral water from our well, located right here at Broadwing Farm.
Our water comes up from the well at 85 degrees. We clean and refill our hot tubs for each arriving reservation with only fresh, clean, naturally warm mineral water.  We fill a conventional hot tub, which adds the final touches of heat, and set the hot tub for your arrival at 100 degrees. The hot tubs are adjustable to your desired temperature from 80 to 104 degrees.