Broadwing Farm
Weddings and Events
Broadwing Farm Events, LLC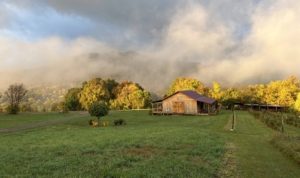 Create Your Perfect Wedding or Event
at The Rustic Barn on Broadwing Farm in Hot Springs, NC
Events Up to 150 Guests
Your Event Includes a 3 Night Stay at
Broadwing Farm Cabins
Fill Out the Form Below for Pricing Information for Your Special Event
(do the math so we know you aren't a robot!)
Contact ShyAnne For More Information
A Tranquil Escape From Modern Life
Family owned and operated since 1992, Broadwing Farm offers a gorgeous landscape perfect for events including weddings, family reunions, and business retreats.
Events hosted by Broadwing Farm Events, LLC are held in a modern yet rustic barn, with handicap accessibility. The Venue can comfortably accommodate 150 guests.
The Event Venue offers a 60′ x  30′ indoor barn space with wide barn doors onto 60′ x 10′ outdoor, covered porches on either side.  The venue provides a uniquely beautiful panorama with views of Hot Springs and the French Broad River Valley.
Customize your Event Package from "DIY" to add on choices for your imagined Event!
The Event Venue does not offer a kitchen.  The Event Packages include trailer restroom facilities. Any downgrade of restroom facilities is at the discretion of the Venue Renters.
---
---
In addition to the Event Barn, events hosted by Broadwing Farm Events, LLC, include a 3 Night stay in our Pine and Cedar Cabins for up to 4 Guests per cabin, within comfortable walking distance to the venue.  Each Cabin has with its own private outdoor mineral water hot tub. The town of Hot Springs, less than 1 mile from Broadwing Farm, offers a wide variety of additional lodging options for your event guests.
One Barn Porch offers a view of the small riverside town of Hot Springs, nestled in a hollow in the Appalachian Mountains. The other direction offers a view of the pond and the French Broad River valley that stretches out to the west, often with breathtaking sunsets!
On the property, guests can enjoy quiet strolls along intricate paths that meander through the orchards, or fish from the pond.
Private trails wind around the mountain and lead back into the National Forest, allowing guests secluded hikes and picnics. Not but a mile down the road, the quaint town of Hot Springs rests in a bend of the river.
Guests can explore local shops and eateries, embark on adventures of rafting, zip-lining, and horseback riding, or hop on the Appalachian Trail which follows main street right through town.
Prospective guests may reach out by email at any time to meet their hosts and receive a private tour of the property. If Broadwing Farm feels like a happy fit for your event, please fill out the contact form above! 
Contact ShyAnne at shyanne@broadwingfarmevents.com for more information