Reasons To Choose Broadwing
Why Choose Broadwing Farm Cabins in Hot Springs, NC
Broadwing Farm was established in 1990 by the Dixon family as a place to make our living, be together, and live close to the land. 30 years later, there are 3 generations of Dixons living here on this beautiful farm. From 1992 to 2010, we grew and sold vegetables, flowers, berries and plants for our living. Although that is no longer our primary income, we continue to focus our lives on growing food. We are happy to be able to offer locally grown vegetables from our garden and blueberries from our orchard to cabin guests during the growing season. We have always practiced organic methods and still do today. Broadwing Farm is situated on 85 acres on a plateau overlooking the scenic town of Hot Springs, NC, with miles of Pisgah National Forest out the back door of our cabin rentals and breathtaking views of the Blue Ridge Mountains and the French Broad River Valley in front. This land has been farmed for generations and we feel so fortunate to live here and carry on that tradition. We are lucky to have the opportunity to share this beautiful farm with our cabin guests.
Reason 1: We Offer Private Hot Tub Cabins with Naturally Warm Mineral Water
For Centuries, visitors to Hot Springs, NC have enjoyed the naturally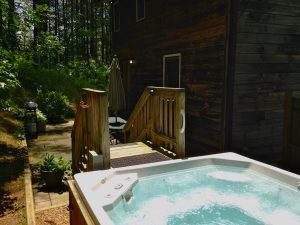 warm mineral water flowing up from the depths of the earth. In the eastern US, that is a rare occurrence. The town of Hot Springs, NC has grown and thrived since the early 1800's because of the waters and has been a continuous destination for health and relaxation seekers. In 1999, when drilling a well for drinking water, we accidentally discovered the naturally warm waters of Hot Springs flowing beneath Broadwing Farm. This mineral water is one of the main benefits for visitors to Broadwing Farm Cabins. We have private hot tubs outside each of our three cabin rentals and fill them fresh for each group of guests. The water comes from our well at 85 degrees, the hot tubs add the final touches of heat and are adjustable to your desired temperature. You can soak, at your leisure, with only the starry sky above.
Reason 2: Enjoy Life on an Organic Farm During Your Stay in Hot Springs, NC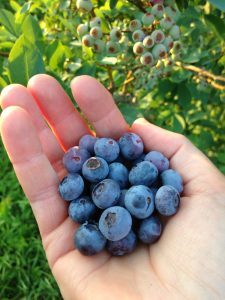 We actively focus on and pursue the organic farming way of life. We have a large, young blueberry patch for UPick berries, apple trees both young and old, a greenhouse for spring garden plants, and a large, beautiful kitchen garden full of a variety of vegetables and flowers. During the growing season, Broadwing Farm provides a tremendous bounty. We also tend a patient flock of steadfast hens that often provide farm fresh eggs. It's a joy to be able to share this bounty with our cabin guests. But, what is most fun is meeting our guests in the garden or around the farm. Our visit may include sharing a sunset by the pond, visiting by an apple tree or in the blueberry patch while checking the fruit for readiness, or getting a basket of fresh, organic vegetables together for dinner. Growing food is central to our way of life. It is the feeling and flavor of fresh food and watching it grow that we love and believe in, and we hope our guests will benefit from this way of life as well.
Reason 3: We're More Than Just Rental Cabins in Hot Springs, NC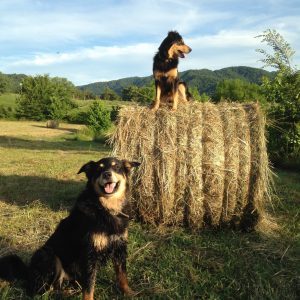 When we moved to Hot Springs in 1992, tourism was at a low ebb. The resort had been closed for some years, which affected tourism to our town. But, the Hicks Family had recently bought the resort property and they were putting it back into operation. Hot Springs found its revitalization, and now with many local businesses, restaurants, outdoor activities and a community, both young and old, dedicated to the vitality of Hot Springs, NC, the town is thriving. We encourage our guests to search out all the opportunities Hot Springs offers a memorable and meaningful stay. Whether that is hiking on the Appalachian Trail, which is the main street through Hot Springs, rafting on the French Broad River, enjoying one of the Hot Springs festivals or music events, horseback riding or bird watching on a mountain trail, enjoying a lovely dinner at one of our local restaurants, shopping for locally made art at one of the shops, or simply relaxing with a soak in a Broadwing Farm Cabins natural mineral water hot tub. When you plan a trip to the farm, we will be more than happy to share our experience in and around Hot Springs to help make your stay a perfect getaway.