Things to Do in Hot Springs
Discover A Wide Range of Things To Do In Hot Springs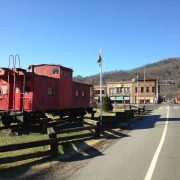 Once the reservation is made, what is there to do in Hot Springs? We often hear that question. The most obvious activities that come to mind are all the wonderful outdoor adventures to find in and around Hot Springs, NC. The hiking in the area is some of the best in the Southeast with a wide range of challenge, from easy to strenuous. Even if a leisurely stroll down the main street in Hot Springs is what comes to mind, you will be walking on the famous Appalachian Trail. Hiking is just one of the many outdoor activities Hot Springs has to offer. In and around Hot Springs, you will find fishing, rafting, horseback riding, driving tours – especially beautiful during the leaf season, dining, and shopping adventures.
Hiking In and Around Hot Springs
Hot Springs, NC could and should be the hiking capital of the Southeast. The main street through town is the famed Appalachian Trail, a 2180 mile trail that stretches from Georgia to Maine.
Additionally, there are dozens of trails in and around Hot Springs, all with their own unique qualities. Whether you are in the mood for a short, relaxed stroll along a loud and rapid trout stream (Laurel River Trail), a short but steep hike for one of the best views of Hot Springs (Lover's Leap Trail), exploring a deep cove with amazing herbs, wildflowers, birds and butterflies (Betty's Loop Trial), a hike up a ridge with giant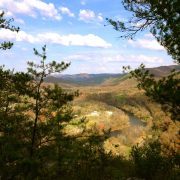 old growth hardwood forests (Round Top Trail), or a 360 panoramic view for miles and miles (famous Max Patch), Hot Springs has got it…and more. One of Broadwing Farm Cabins best features is that all three of our cabin rentals back to the Pisgah National Forest. If you don't want to drive for your hike, just walk out the back door.
Fishing In Hot Springs
There is a multitude of excellent fishing opportunities in the Hot Springs area. To begin with there's the pond at Broadwing Farm Cabins. Just a few hundred yards from the cabins, our pond is an excellent spot to catch your dinner. It is well stocked with catfish for eating or bluegill and bass for catch and release. The French Broad River is a great place to fish too. I personally have caught smallmouth and largemouth bass, bluegill, channel catfish, walleye, white drum, rock bass and gar. There are also some giant yellow catfish and musky in the French Broad River. For the fishing aristocrats, there are miles of trout streams in the Hot Springs area. Streams like Paint Creek and the Laurel River offer opportunities to catch bountiful stocked trout. For those who are willing to explore the more remote reaches, there are native trout, brook trout, and brown trout still hiding in some of the hollers and coves. If you'd like to take a guided fishing trip in the Hot Springs area you can check in with the good folks at Elk Creek Outfitters (ecoflyfishing.com). Ask for Matt as a guide.
Horseback Riding in the Hot Springs Area
We have many families stay at Broadwing Farm and encourage family stays, with no extra guest fees for families with children. Kids today are surrounded by many reasons to stay inside and miss out on the forest, animals and the kinds of adventures that past generations easily enjoyed. Hot Springs offers adventures to share with your kids during your stay. Sitting astride a horse and walking along a mountain trail with views of the rugged French Broad River Valley is just such an adventure. The horseback riding outfitters in the area (Sandy Bottom Trail Rides) have a great reputation for providing an adventure of wholesome family fun in the great outdoors by a family run business with years of outfitting experience.
Go For a Scenic Drive in the Hot Springs Area
Something we know from personal experience is that vacations
should not be all about exercise, eating right and doing the right thing. Sometimes it's great to just indulge yourself. What could be better than turning on the air conditioner, putting on your favorite music and taking a drive through some of the most beautiful country in the US? Hot Springs provides beautiful loop drives thru scenic valleys (Paint Rock/Laurel Loop), gorgeous roads overlooking deep gorges that wind up at great restaurants (Hwy. 209 to Trust/Luck), and amazing drives to see autumn leaves with large sweeps in elevation (Rich Mountain Fire Tower). On a good year, the leaf season in Hot Springs can last a month or more.
From Hot Springs, you can easily make a trip to the Blue Ridge Parkway. This "All American Road" is the most visited section of the National Park System. Although it is not officially a National Park, it is maintained by the National Park Service and is surrounded by National Park Land.
Construction began during the FDR presidency and was not completed until 1987. It stretches 469 miles and connects the Great Smokey Mountain National Park to the Shenandoah National Park in Virginia. From Hot Springs the easiest route to the Parkway is thru Weaverville on Reems Creek Rd (about a 35 minute drive from Hot Springs), with three or four additional access points in the Asheville area.
Leaf Season in Hot Springs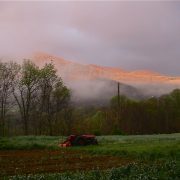 Many folks come to Hot Springs to take in the spectacular Fall colors. Frequently we hear the question, "When is the best time to see the Fall colors in Hot Springs?" It's a good question with a surprising answer. The leaf season in Hot Springs is usually quite long, so you have a good opportunity to fit Hot Springs into your Fall travel plans. Surprisingly, because we are in the French Broad River Valley, Hot Springs sits at only about 1200 feet elevation. Surrounded by the Blue Ridge Mountains that go straight up to 3500 feet, you'll see a dramatic and breathtaking panorama of Fall color for a long season. The simple answer to the question of "When is the best time…" is that the first colors normally start in late September to early October at higher elevations, in the forest understory with purple sourwoods and golden poplars, along with the multicolored roadside sumacs. The main Fall color season at Broadwing Farm Cabins, usually starts sometime around middle October with the oaks, hickories and maples, providing a spectacular color vista, and usually peaking about the last week of October, often lasting until the first week of November.
Within a short drive from Hot Springs, you can be at one of the tallest peaks east of the Mississippi, Mount Mitchell, on the Blue Ridge Parkway or at Clingmans Dome in the Smokey Mountain National Park. Because of these great changes in elevation, the Fall leaf season around Hot Springs can last more than a month.
Dining in Hot Springs
Hot Springs offers a great variety of dining options, from hearty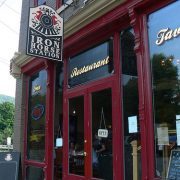 breakfast fare to gourmet dining and several things in between. Iron Horse Station and Spring Creek Tavern offer menus and varied atmospheres to satisfy any traveller, with daily specials, appetizers, entrees, desserts and extensive local beers.  Vaste Riviere Provisions has a wine shop, gourmet grocery and cafe with many locally sourced menu choices.  Big Pillow Brewery serves up craft beers from right here in Hot Springs along with food from Grey Eagle Taqueria. Live music can be enjoyed at many of our local eateries.  The Smoky Mountain Diner, has been serving Hot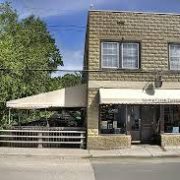 Springs breakfast lunch and dinner 7 days a week for longer than most of us can remember. They have a wonderfully varied menu with daily specials and it's a favorite of AT hikers.
Go for a Picnic in Hot Springs. Sometimes the simple things are the best. Hot Springs, NC is a good reminder of that simple principle. There are two lovely developed and maintained picnic areas within ten minutes of down town Hot Springs. Murray Branch Picnic Area has shelters, grills, tables and a beautiful view of the French Broad River. Rocky Bluff Recreation area on Hwy 209 has picnic tables, grills, camping areas, a historic cemetery, and is the beginning of a couple of wonderful hiking trails. The folks at the Mosaic Gourmet, offer boutique catering and will happily prepare either (or both!) a picnic basket or meal for you to enjoy at you cabin.
Shopping in Hot Springs
Hot Springs is a quaint little with some fun downtown options to buy gifts or vacation goodies for yourself. The ArtiSun Gallery has a wonderful selection of artwork, pottery, clothing, weaving, etc. all produced by our talented local artisans. For the adventuring visitor to Hot Springs, Bluff Mountain Outfitters has a wide variety of outdoor clothing, gear, books and gifts as well as food, drinks, coffee
and (best of all) chocolate. And a trip to downtown Hot Springs is not complete without a visit to the historic Gentry's Hardware Store. It was established in 1946 by James Gentry (fresh back from World War II) and his wife Dot and it has been in the family ever since. Jim's son Keith and his wife Jeanne now carry the tradition. It's loaded with history and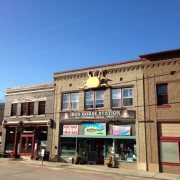 great tools, hardware and gifts. For beer, wine or snacks try Tobacco Road for friendly and dependable service. The Hillbilly Market has a nice selection of groceries, fresh produce (some of it local), and provides fresh meat for grilling. A must stop for an amazing variety of locally made products from cheesecakes to lip balm is SaraJo's Station, also our only gas in town.
Shop Local at Tailgate Markets in Hot Springs and Asheville
If you like local food, fresh food, berries, veggies, local grass fed beef, flowers, pork, poultry, fish, baked goods, pottery, crafts… the list could go on and on. From April – October, Hot Springs offers a thriving Saturday morning Farmer's Market with local baked goods from Rising Flour Bakery along with a variety of vendors selling everything from local plants and produce to roasted coffee, are and skin products. The Asheville area is renowned for its sustainable agriculture movement, and is one of the best regions in the country for local farms, fresh food and farmer's markets. During the growing season, most days of the week within a 30-45 minute drive, you can find at least one farmers market where you are sure to find a bountiful cornucopia of delicious local fare.
Visit the Biltmore House in Asheville
When planning a road trip from Hot Springs to Asheville, don't forget to add a stop at The Biltmore House. At just a 45 minute drive from Hot Springs NC, The Biltmore House is America's largest private residence- an 8,000 acre estate completed in 1895 for George Vanderbilt. It stands today as a prominent example of the opulence of the Gilded Age. George Vanderbilt, son of railroad magnate and philanthropist William Henry Vanderbilt, made regular visits to Asheville with his mother, beginning in the 1880's. He loved the area so much for its scenery and climate that he decided to create his own "little mountain escape" to replicate the working estates of Europe, complete with 75 acres of formal gardens and a winery. The estate is still owned by the Vanderbilt descendants and is one of the top 25 visited attractions in the US.